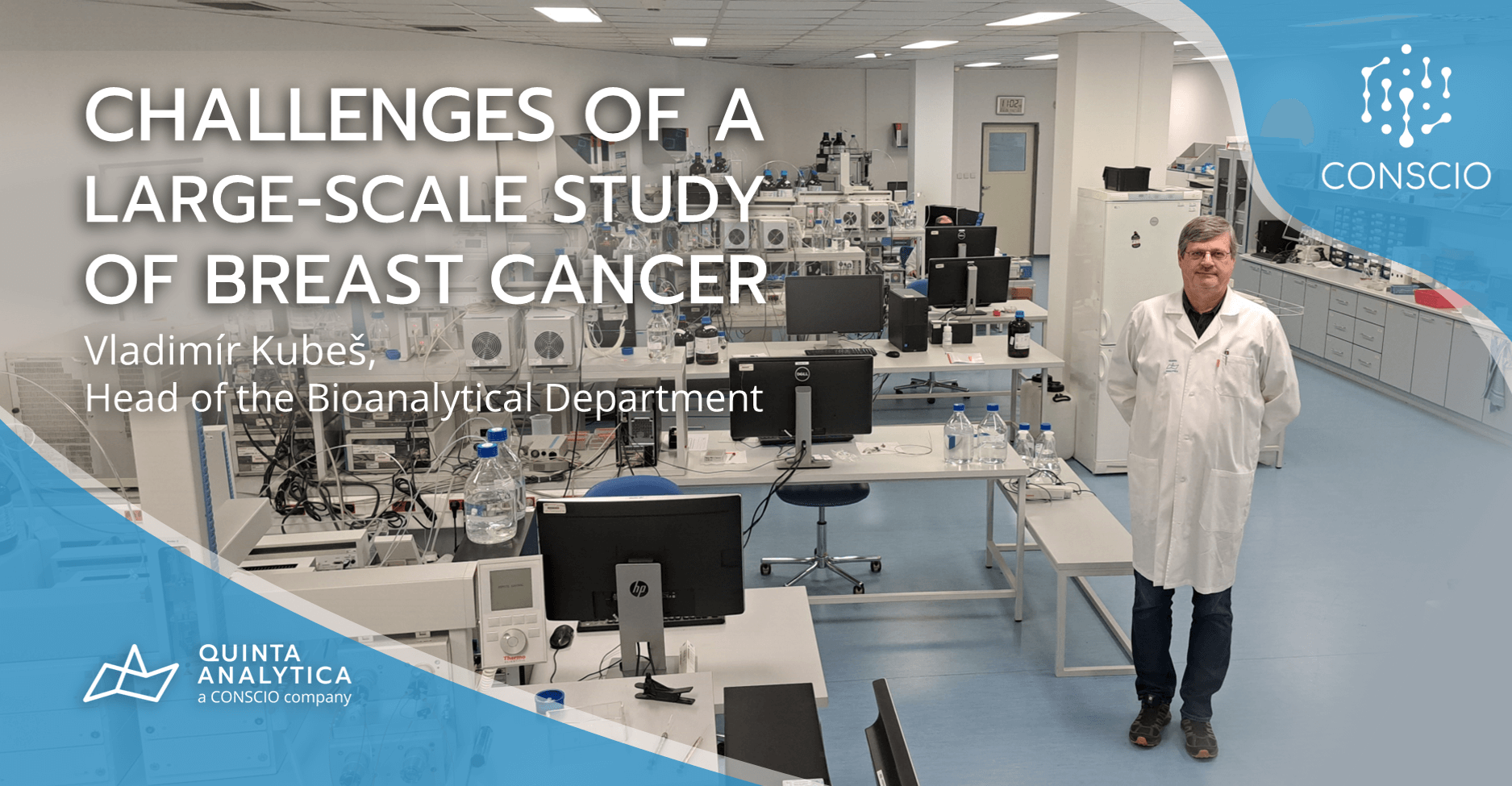 Quinta-Analytica and their client teamed up for an ambitious goal: Developing an advanced formulation for long-lasting breast cancer treatment, targeting the US and European markets. But this wasn't an average project. It involved the recruitment of over 600 postmenopausal women for clinical trials over several years, an enormous amount of data to manage, multiple study extensions, unexpected FDA inspections, and many more challenges against the backdrop of a global pandemic and the Ukrainian crisis. Join Vladimír Kubeš, our Head of Bioanalysis, on a wild ride that required hard work, know-how, and an unwavering commitment to success.
A high-profile case study from our bioanalytical team
We asked Vladimír Kubeš, Head of the Bioanalytical Department at Conscio's subsidiary Quinta-Analytica, about complex case studies to highlight the strengths of his team. Mr. Kubeš had many examples to choose from, because during his 25 years of professional career he has handled all sorts of projects. But he remembered a recent study that stands out in his mind as most exceptional:
"There is a large-scale sponsored project we've been working on since 2017 in cooperation with one of the world's biggest CROs, partners from different countries and several departments within our own organization. The aim is to develop a new formulation for breast cancer treatment. The API is a hormone therapy, commonly used to treat hormone receptor-positive breast cancers, and the formulation is designed for prolonged drug release. The API is already sold in tablet form in the US and in EU; therefore, this is a novel dosage form which demands bioavailability assessments with pharmacodynamic output as well as the recruitment of postmenopausal women. Of course, we are unable to disclose details about this ongoing project or our client for confidentiality reasons, but I am allowed to share some of the aspects that make this project truly fascinating."
Multiple teams coming together against breast cancer
"This breast cancer project relied on our medical facilities and both our Bioanalytical (BIO) and Clinical (CLIN) teams which are based at the same site and usually work shoulder-to-shoulder. We were entrusted with running the clinical study, volunteer recruitment, bioanalytical quantification of the API and assessing bioavailability and pharmacodynamics of hormones linked to breast cancer. Our readers should know that hormone receptor-positive breast cancer accounts for about 70% of all breast cancer cases and that such therapies work by inhibiting the production of estrogen in the body, which can slow down or stop the growth of breast cancer cells. There were many hormones in the original analyses, but we ended up focusing on two key ones. In turn, our client and the study sponsor took over monitoring, project, and data management. This is quite an extensive project; we are coordinating with people in Germany, Austria, UK, Hungary, Czechia, India, and Spain, if I am not forgetting anyone."
A challenging clinical study from day one
Vladimír Kubeš explains the multiple hurdles that his colleagues had to face from the very beginning, as well as the dedication and the patience which helped them fight through each one of them:
"Already the design of the clinical study was complicated, with an enrollment process that involved over 600 post-menopausal volunteers in several cohorts plus an extra recruitment round to reach the target. Before beginning the study, we had to monitor hundreds of subjects to confirm postmenopausal status and exclude those with thyroid disease. We had to evaluate the dose-response relationship between the API and hormones to establish a baseline hormone level before drug administration. Besides, this project run through the COVID pandemic, which required our full adaptability to ensure the study would always progress smoothly. We established first-rate relationships with our partners to effectively react to any changes, something we had to do several times: Reordering of volunteers, arranging alternative dates, immediate examinations, solving packaging and labelling issues, handling enormous amounts of data, quick delivery of results, not to mention the completion of two audits by the sponsor."
Looking at the bigger picture
"I think it's important to look back at what we've done to figure out where we are headed next. Last year, the situation in Ukraine impacted on some of our clients' timelines, but we had plenty of external preclinical projects and global clinical studies, some of them targeting the USA like this breast cancer project, which kept us busy. Moreover, we successfully passed two separate FDA inspections; one of them specifically focused on our Prague clinical unit. In the end, we finished 2022 with 90 different bioanalytical projects and fully eligible for GCP clinical trials, GLP bioanalysis and GMP quality control. Looking into 2023, the year has started even stronger: Ukrainian sponsors are back in action, and we are operating at full capacity. Our Prague clinical unit is running 40 studies per year and our bioanalytical team can process up to 3,500 samples/day with nearly 300 validated bioanalytical methods."
As the conversation progressed, Mr. Kubeš shifted his attention to the next steps with his breast cancer client and future opportunities for Conscio:
"Naturally, the breast cancer project continues with all the current analyses as well as ongoing work on a new formulation. But besides all that, we also have discussions with the same client about other interesting molecules including H1 antagonists, anticoagulants, and monoclonal antibodies. Our conversation has concentrated on this case study, but we also have wide capabilities to work with many other analytes under GCP/GLP, including several ongoing small and large peptide studies and ICP-MS projects, plus our own in-house team for pharmacokinetics and biostatistics evaluation. Many of our clients are innovators, although generic sponsors will remain essential to our work, with a very interesting trend towards larger multi-analyte studies. The Bioanalytical department has been active since our foundation, and we have accumulated a wealth of expertise in bioanalyses, bioequivalences, and PKs. We are eager to continue learning alongside our clients in the future."
CONSCIO GROUP is a network of quality science organizations committed to ensuring good health for all by improving the safety and reliability of food and pharmaceuticals. Conscio Group members include LVA (Austria) EL Labs (Slovakia) HyServe (Germany) Quinta-Analytica (Czechia) Gen-Plus (Germany) and Ekolab (Slovakia). Visit www.consciogroup.com for more information.
Article by Albert Pineda