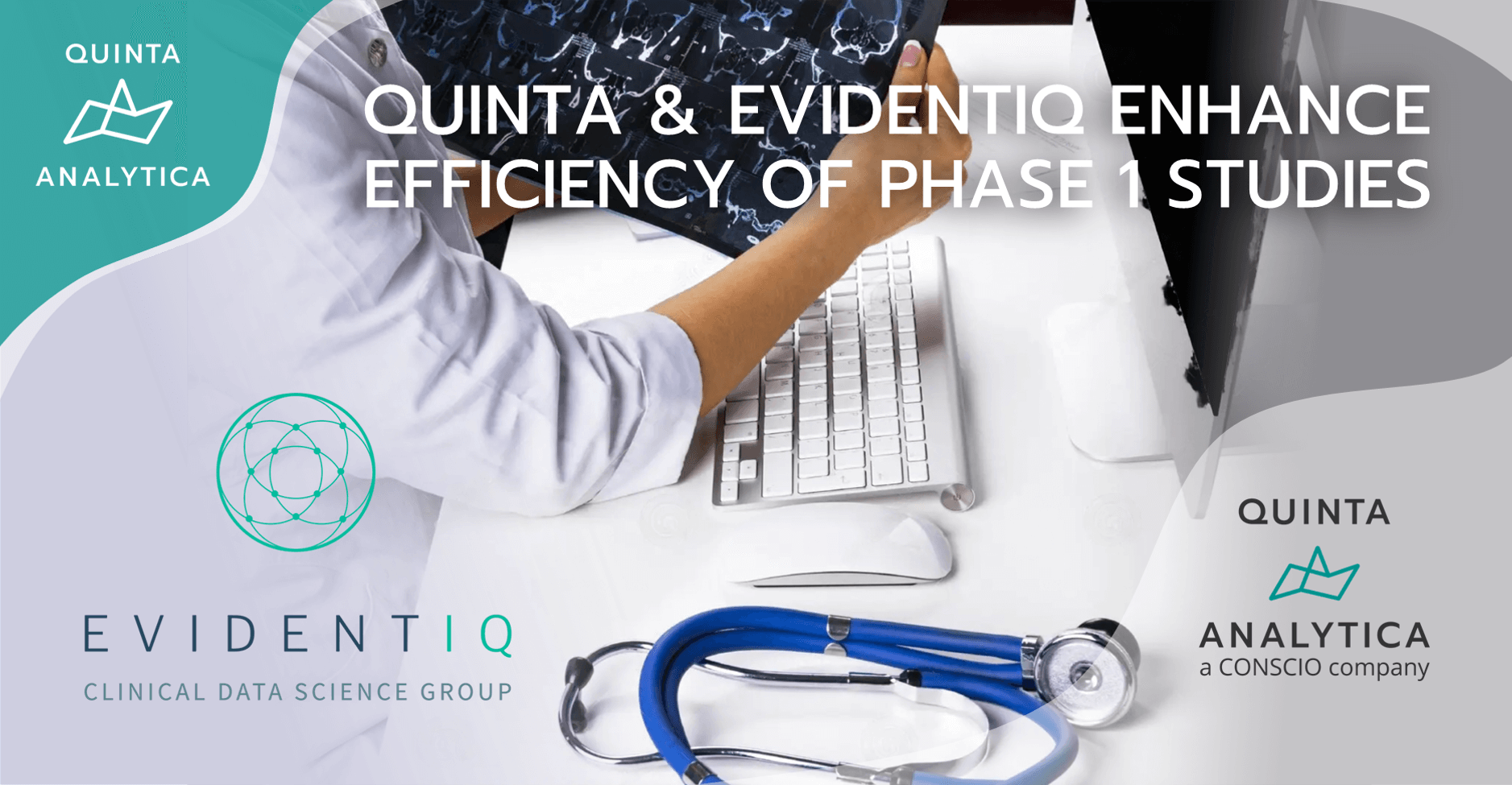 Hamburg June 22, 2023 – EvidentIQ's Clindex CTMS optimizes Data Collection for Phase 1 Studies
EvidentIQ, the innovative provider of advanced clinical trial management solutions has joined forces with Quinta-Analytica, a renowned GCP/GLP/GMP-certified European CRO and part of the Conscio Group. This collaboration aims to enhance the efficiency and effectiveness of data collection processes for Phase 1 studies, utilizing EvidentIQ's Clindex eClinical system.
According to Dr. Renata Vyhnálková, Quality Assurance Auditor of Quinta, "Collecting data for phase 1 studies requires unique requirements. After evaluating many software solutions, we are thrilled to have finally found a solution that will meet our needs. The EvidentIQ team has worked diligently to help implement Clindex and responded quickly to additional functionality needed during the process."
Phase 1 clinical trials play a crucial role in the development of new drugs and therapies. These trials are designed to evaluate the safety and tolerability of investigational treatments in a small group of healthy volunteers or patients. To streamline the complex process of Phase 1 studies, the Clindex system has been able to offer Quinta a range of unique key features specifically tailored to meet the needs of their researchers.
To tackle one of the critical aspects of their clinical trial process, the data entry, Clindex has been able to ease this process with its Phase 1 Visit Manager. This tool is allowing researchers to enter data based on phase/visit and time interval. Quinta's researchers have been able to enter data for all subjects on a single screen in a user-friendly manner, perform real-time double data entry and sort the data by subject or by process. Another crucial aspect of the software has been the fact that multiple users can enter data for multiple subjects simultaneously with automatic synchronization. As part of the data entry process Clindex has been able to automatically show when data should be collected for each subject based on pre-defined timings.
Subject enrollment and replacement can be a dynamic process in a Phase 1 study. Clindex has simplified these tasks by allowing Quinta's researchers to register, track, and replace enrolled subjects with stand-by subjects as needed. This feature has ensured that the study remains on track, even in situations where subjects may drop out or require replacement. In addition Clindex' dynamic model allows for tracking of dose escalation over the course of the study.
Quinta has been able to easily track study metrics, generate reports, and gain valuable insights to inform decision-making thanks to Clindex's customizable dashboards. These dashboards provide subject-specific and global site data, allowing for personalized data visualization and analysis.
The Clindex system is helping revolutionize Quinta's Phase 1 studies with its unique key features geared towards optimizing data collection, enhancing subject management, promoting collaboration, and providing comprehensive data insights. By harnessing the power of Clindex, Quinta's researchers and clinicians are being able to conduct Phase 1 studies with increased efficiency, accuracy, and confidence, ultimately advancing the development of novel treatments and improving patient health.
Quinta-Analytica is a GCP/GLP/GMP-certified, EMA and FDA-inspected European CRO, part of the Conscio Group. With two in-house clinical units and multiple laboratory sites, Quinta specializes in clinical studies, bioanalytics and method development as well as GMP quality control, R&D and formulation solutions for both small and large molecules, human and veterinary IMPs and generics.
Clindex, part of EvidentIQ, is a complete eClinical system that streamlines the entire clinical trial process, from site selection to study close-out. It offers EDC, eCOA, study and site management tools, enrollment tracking, visit scheduling, product management, comprehensive e-monitoring, site payments, along with an eTMF and eISF all in one inherently integrated solution. Clindex is a single eClinical solution, not a patchwork of connected CTMS and EDC systems, providing all the necessary functionality in one place.