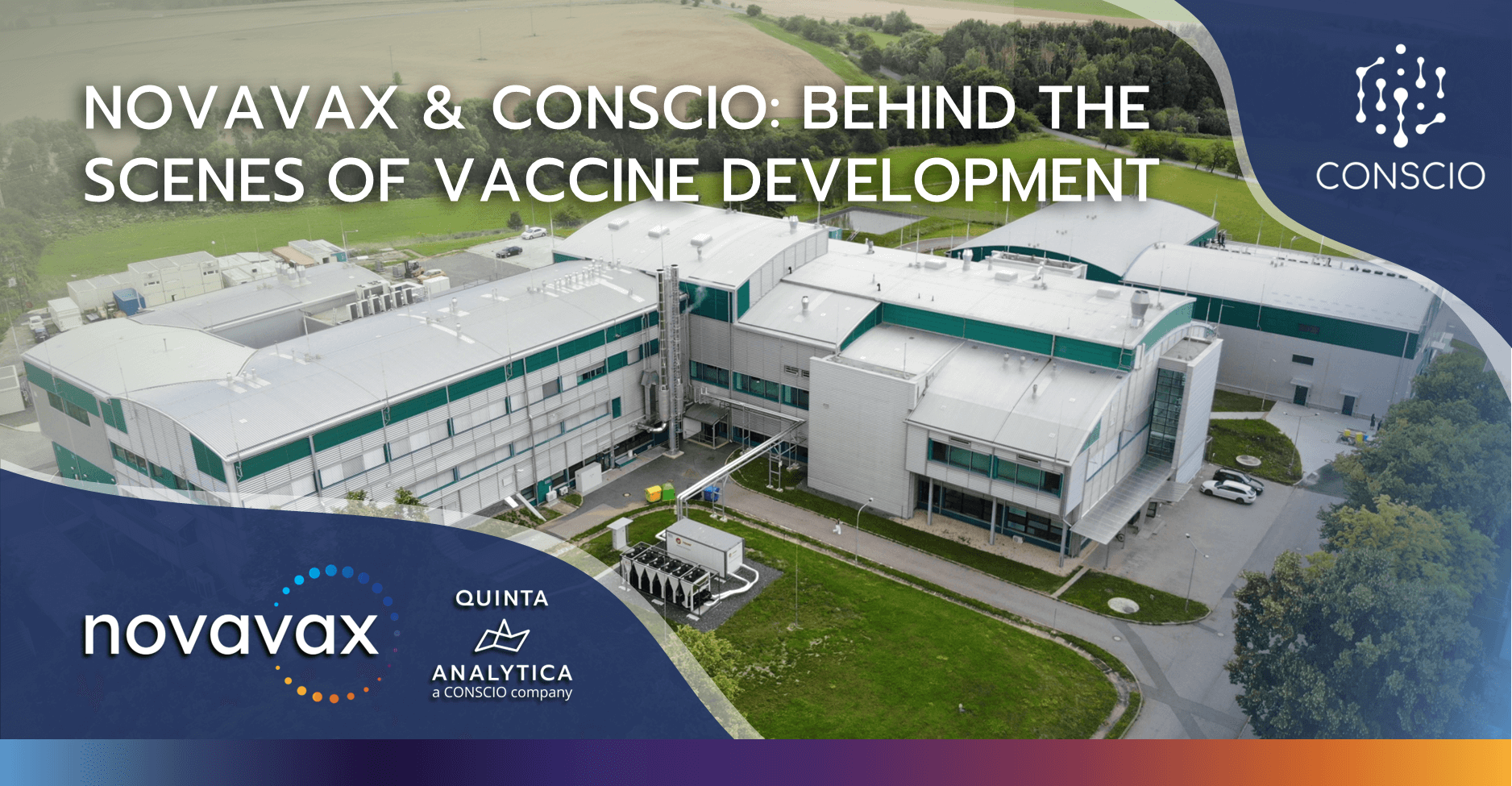 Today we talk about our successful partnership with the vaccine manufacturer Novavax and our joint work behind the scenes to ensure people's health worldwide.
Novavax's plant in the Czech Republic concentrates antigens for vaccine production. Pavla Malečková, head of Conscio's Quality Control laboratory in Brno remembers the beginning of their collaboration: "Dr. Jakub Kronovetr, director of Novavax's Czech site, was convinced that we could handle such a substantial project."
Conscio's collaboration with Novavax began in 2020 with the implementation of hundreds of methods, some of which were developed from scratch. In addition, incoming raw materials had to be routinely tested for water content, elemental impurities, identity, assays, microbiological assays such as endotoxins, TAMC, or TYMC, as well as other GMP analyses. At the time there was an unprecedented surge of demand hitting all vaccine manufacturers and Novavax were poised to scale up vaccine production. As a result, keeping turnaround times low and volumes up was a challenge that Mrs. Malečková's team successfully met, fulfilling Novavax' needs and rolling forecasts very quickly. Nowadays the process is so streamlined that in 2022 alone they tested almost 6000 samples.
The role of CROs like Conscio is critical in the development of vaccines and other medicines. Dr. Kronovetr explains their early interaction: "They made it possible to streamline very time-consuming stages of process setup, free up internal resources, and boost production at a critical time. We are very happy with the level of coordination achieved with the Conscio team."
Mrs. Malečková confirms that, besides their wide scope of techniques, GMP and MIA certificates and capacity to handle EP, USP, and JP methods, their client really appreciate their responsiveness: "Our collaboration began with a team of four in the middle of the pandemic. We have since doubled our capacity, improved documentation sharing, LIMS data recording, and handle larger assay loads. Novavax has been a great partner for us."
The pandemic demonstrated the value and the importance of vaccines among the public, and firms like Novavax rose to the occasion. Pavla Malečková will continue supporting them: "We are proud to help diversify the supply chain by supporting Novavax.
NOVAVAX, Inc. (Nasdaq: NVAX) promotes improved health by discovering, developing and commercializing innovative vaccines to protect against serious infectious diseases. Novavax, a global company based in Gaithersburg, Md., U.S., offers a differentiated vaccine platform that combines a recombinant protein approach, innovative nanoparticle technology and Novavax's patented Matrix-M adjuvant to enhance the immune response. Focused on the world's most urgent health challenges, Novavax is currently evaluating vaccines for COVID, influenza, and COVID and influenza combined. Please visit novavax.com and LinkedIn for more information.
CONSCIO GROUP is a network of quality science organizations committed to ensuring good health for all by improving the safety and reliability of food and pharmaceuticals. Conscio Group members include LVA (Austria) EL Labs (Slovakia) HyServe (Germany) Quinta-Analytica (Czechia) Gen-Plus (Germany) and Ekolab (Slovakia). Visit www.consciogroup.com for more information.
Article by Albert Pineda