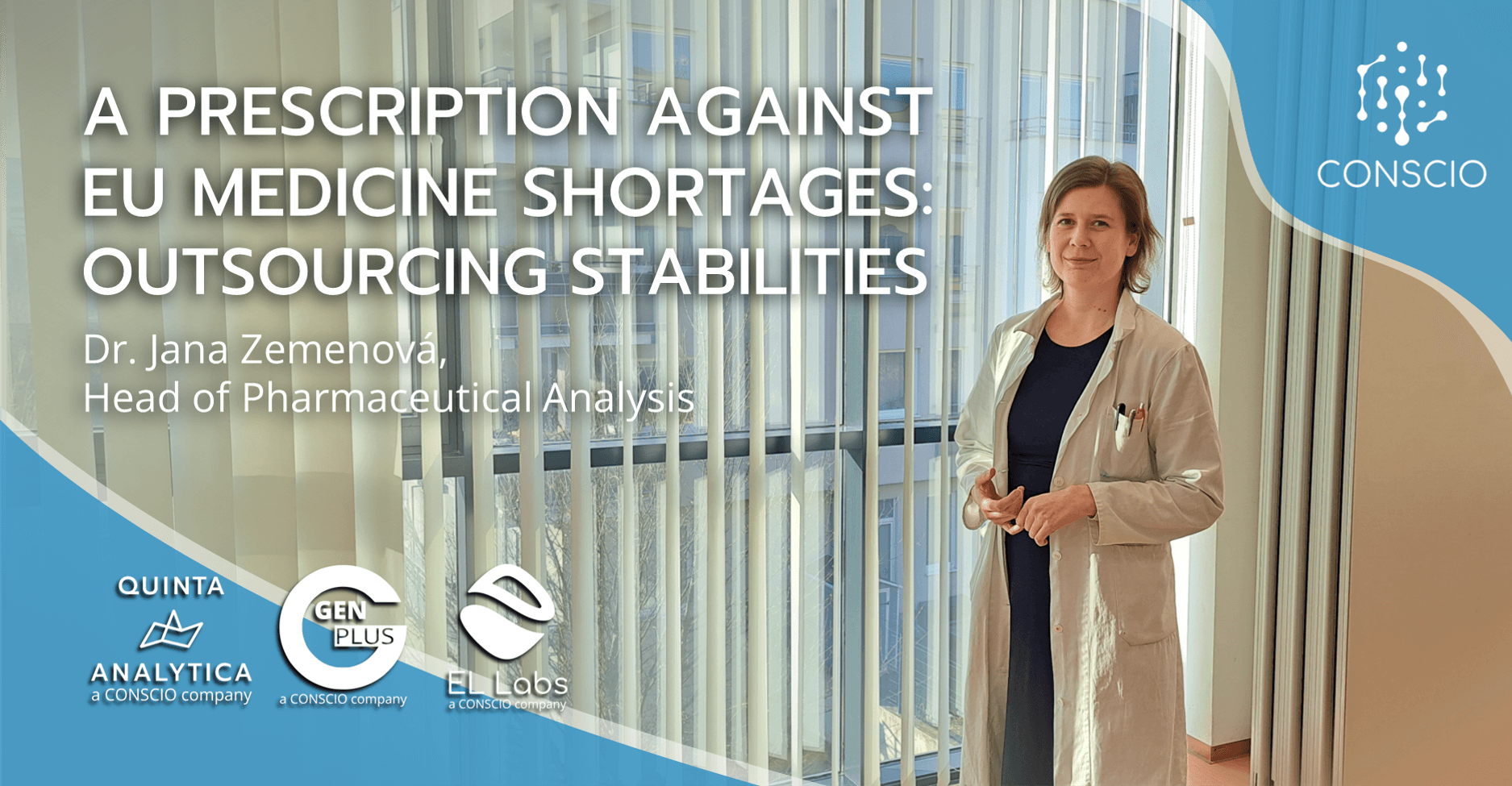 The shortage of essential medicines has become a growing concern for healthcare leaders across the European Union. With recent reports of insufficient production capacity, the issue has come back under the spotlight, putting pressure on the industry to find a solution. However, as one of the leading experts in pharmaceutical testing, the Conscio Group is well positioned to play a role in alleviating the situation. In today's interview with Dr Jana Zemenová, Head of the Pharmaceutical Analysis Department, we talk about this critical topic and discuss how CROs can help diversify production and ensure a steady supply of drugs through the outsourcing of high-cost and time-consuming services like stability testing. These are the highlights from our discussion:
The European Commission seems to have their hands full with this problem. Do you think there really is a shortage of medicines in the EU?
"During the last three years we have seen different major events, beginning with the COVID-19 pandemic, that have caused substantial disruptions in the global drug supply chain. We witnessed border closures, factory shutdowns, delayed shipments, reduced production capacity or changes in the purchasing habits of the customers. But now that the peak of the pandemic seems to be over, it has become obvious that there are still several factors contributing to drug shortages in the EU, the USA and other parts of the world. We are still pretty much dependent on imported stuff, whether products, active ingredients or raw materials. And in case that there is a problem with the traffic or with logistics we get stuck into a situation which is not going to get solved easily. I think the main topic here is logistics, the whole trouble of getting anything from one part of the world to another."
You talk about EU's dependence on imported stuff. Along the same lines, some lawmakers are calling for the relocation of medicine manufacturing to Europe. Do you believe that those disruptions were mainly caused by manufacturers in distant regions?
"Not really. The pandemic had a much more widespread impact at both the local and international levels. The root of the problem wasn't so much the geographic location of manufacturers, really, but the lack of diversification in the supply chain in general, the need for more players. Surely, we all saw people stocking up certain drugs during COVID times and that put a lot of pressure on our production capabilities. Shortages were more acute for essential medicines such as antivirals or vaccines and were more visible for a few well-known companies due to their predominant position in the supply chain. What's interesting is that there were alternative companies who manufacture generics with the same active compounds, and who could have helped at the time, but their capacity of response was limited: They couldn't suddenly cover for such unexpected shortages without previous notice. The planning in pharmaceutical manufacturing is not done in the weeks; you must prepare months ahead of time. So, while authorities in the EU and the USA took several steps to ensure continuity of drug supply during COVID times, such as increasing strategic stockpiles of certain medicines or expediting regulatory approvals for new products; the pandemic highlighted significant limitations of our global drug supply chain which remain to this very day. And again, an important part of the solution lies in diversification: Not just producing more but producing in more places."
Sounds like a pretty hefty goal. And how can you help in all that?
"Actually, we at the entire Conscio Group are contributing to this goal on a daily basis from our position as a global contract research organization (CRO). Our mission is to help pharmaceutical companies, either local or international, perform complex assessments which don't really make economic sense for them to carry out in-house. We offer our clients GMP-certified method validations, batch testing for release, running all the routine chemistry, manufacturing, and control work (CMC) so that they don't have to setup their own laboratories with specialized instruments. And few assays are going to be more demanding than the stability studies which our department is responsible for. But just having loads of sophisticated instruments is not going to make you a successful company unless you have people who can operate them. Training a pharmaceutical professional takes years and years, all the GXP practices are not easy to understand, and it is important to have experienced people around you who know what they are doing. We can do this for them. The trend nowadays is seeking for this expertise, which is our most precious strength."
You said that stabilities are more demanding compared to other assays. Tell us why.
"Let's begin by saying that stability assays are critical for drug development and an indispensable part of the registration and commercialization process. All the manufacturers need to prove that the little expiration date on the side of the box is valid. To that end, stabilities establish appropriate storage recommendations, determine the shelf-life, and ensure that the products remain safe and effective throughout that entire shelf-life. Stability testing involve very lengthy assays during drug development under different temperature and humidity climatic conditions according to ICH guidelines, the so-called ICH stabilities, plus on-going stabilities for the monitoring of the products once they have been approved and are on the market. So, for one thing, these assays are extremely time-consuming: A conventional stability project with samples stored under standard conditions (25°C/60%RH; 30°C/65% RH) can last for three to five years. Sometimes additional tests under refrigerated, freezing, or non-ICH climatic conditions are also required. Accelerated stabilities at 40°C/75% RH are designed to shorten longer studies and can be completed in only 6 months, although certain drug forms such as capsules require shorter times. To put this in context with other routine CMC assays, we usually do batch testing for release in about 10 days. Moreover, these assays are very large in scale: Each project usually comprises hundreds and hundreds of samples stored in our stability chambers, and each one of them must be tested at a minimum of 6 different time points to show that the medicine is all right during storage. And if all these were not enough, testing isn't just limited to the finished product, but the API, raw materials, intermediates and even the package itself. Are there any potential degradation pathways that may impact the safety and efficacy of the product? Can you still read everything on the box? Are the blisters deteriorated? The list of considerations goes on and on…"
This all seems very complicated. Wouldn't your clients with their intimate knowledge of their products be better off running the studies themselves? Why should they outsource stability testing?
"First of all, it is really expensive to keep your stability chambers up and running: They consume a lot of energy and must be equipped with emergency generators against power outages; they need set alarm systems; each chamber is equipped with its own HVAC and SCADA units plus a supplementary Simatic PLC system for the monitoring of temperatures and humidities, you have to account for deviations if anything goes wrong; you have to do temperature mapping and full calibrations… There's lots of technical work required even before you can start running the studies and they represent quite a massive investment. Of course, bigger manufacturers have their own climatic chambers, but if you've got just a few boxes it just does not make any economic sense to perform stability testing on your own. Our stability facilities at our Quinta-Analytica site in Prague include 6 walk-in stability chambers with back-up capacity for all ICH climatic conditions including Zones II, IVb as well as other non-ICH settings; a walk-in fridge plus extra fridges and freezers certified for narcotics work; 2 photostability boxes (Aralab and Sanyo) and 3 Binder boxes for forced degradation studies. Everything ICH-compliant, of course, and running under LIMS with all output constantly monitored, digitalized and fully traceable within a specific LIMS stability module. And if this was not enough, our colleagues at EL Labs and Gen-Plus have extra backup capacity with 10 more WTB Binder and Memmert climatic cabinets for the testing of pharmaceuticals as well as nutritional supplements. I believe the commitment of the entire Conscio Group to this critical service is best demonstrated by our four different laboratories involved in stability testing and their combined storage capacity of an impressive 254 m3."
And yet you mentioned larger manufacturers have their own climatic chambers. Does this mean that your department only deals with smaller companies?
"Not at all! Bigger clients may still need expertise in additional areas. We offer a very wide range of services beginning with the development and validation of the stability methods with our R&D team during early formulation stages; ICH stabilities for innovator products; in-use stabilities; software-assisted accelerated predictive stabilities (APS) for three times faster testing than conventional stabilities; forced stabilities under different stressing factors such as heat, oxidative, acidic or alkaline conditions; photostabilities with UV and visible light; on-going stabilities for commercialized products; stress testing; holding time studies; transport and temperature cycle testing among others. On the other side of the spectrum, some clients only hire us to store their samples and do the testing themselves, but the great majority go for the full package: From setting up protocols, storing and testing, until we issue the Certificate of Analysis (CoA). Services such as in-use stabilities are especially demanding as they call for expert handling: You may have to check the integrity of the syringes, fill the infusion bags, confirm you can actually get the extractable volumes each and every time, see whether the container can be opened 100 times without altering the product inside; accurately reproduce real-life conditions to assess if your tablets are going to be safe lying on your nightstand, right next to your very hot and very bright lamp… This isn't just generating data in the laboratory; we must evaluate from a very practical point of view characteristics of the finished product which can condition its future marketability. We really do have extensive experience with pretty much any type of stability study you can think of."
So just to recap: Thanks to your involvement pharma companies have access to specialized infrastructure, climatic chambers, expertise, and even alternative assays to reduce time to market. I get the benefits of outsourcing. But there will still be logistic challenges, and disruptions in raw materials and APIs. How do we go from here to improving the shortage of medicines?
"Naturally, we aren't claiming we can single-handedly solve all the challenges faced by the global drug supply chain. Surely, cutting costs will remain an issue, as well as accessing a skilled workforce or reducing the time it takes to bring new medicines to market. And we can help on all those fronts. But overall, manufacturers face a complex set of limitations when it comes to increasing drug production, which require a more comprehensive approach, including flexibilization in the regulatory framework, government incentives and a more resilient distribution network to face demand changes or supply disruptions caused by unexpected scenarios such as COVID-19, the energy crisis or the Ukraine war. Before I mentioned that logistics remained a main concern and that the impact of shortages was worsened by the fact that alternative manufacturers did not have the same capabilities as larger, more predominant pharmaceutical companies. We are both describing risk factors contributing to medicine shortages here, and we all know that the best way to mitigate risk is by diversifying your chances. This is what European authorities are encouraging: The diversification of production and suppliers to reduce the dependency on single players, increase competition, and as a result strengthening the supply chain for pharmaceuticals. And the participation of CROs and CMOs like Conscio has a very valuable effect: Through the assistance of all the labs from Conscio's pharma division, Quinta, EL Labs and Gen-Plus, we enable new actors who would otherwise lack the necessary skills and equipment, to take part in the global drug supply chain. Besides, we also enable larger clients to increase efficiency and free up internal resources to focus on other activities and adapt to changing market conditions. On one hand we are helping reinforce local capabilities towards more self-sufficiency and on the other we are helping increase the number of international players that can come to the European market."
We will continue monitoring ongoing discussions between European authorities and industry leaders regarding key medicine supply chains, but what is certain is that Dr. Zemenová, and her colleagues from the various stability testing groups at Conscio will continue to assist pharmaceutical innovators, generic manufacturers, biotech startups and big players worldwide to bring their products to Europe.
CONSCIO GROUP is a European leading customer-centric contract research & development service provider for the pharmaceutical industry delivering customized end-to-end drug development solutions within the areas of innovative R&D and formulation, analytical QC and clinical solution as well as small scale manufacturing. Conscio Group members include Quinta-Analytica (Czechia) Gen-Plus (Germany) EL Labs (Slovakia) LVA (Austria) and HyServe (Germany). Visit www.consciogroup.com for more information.
Article by Albert Pineda
‍