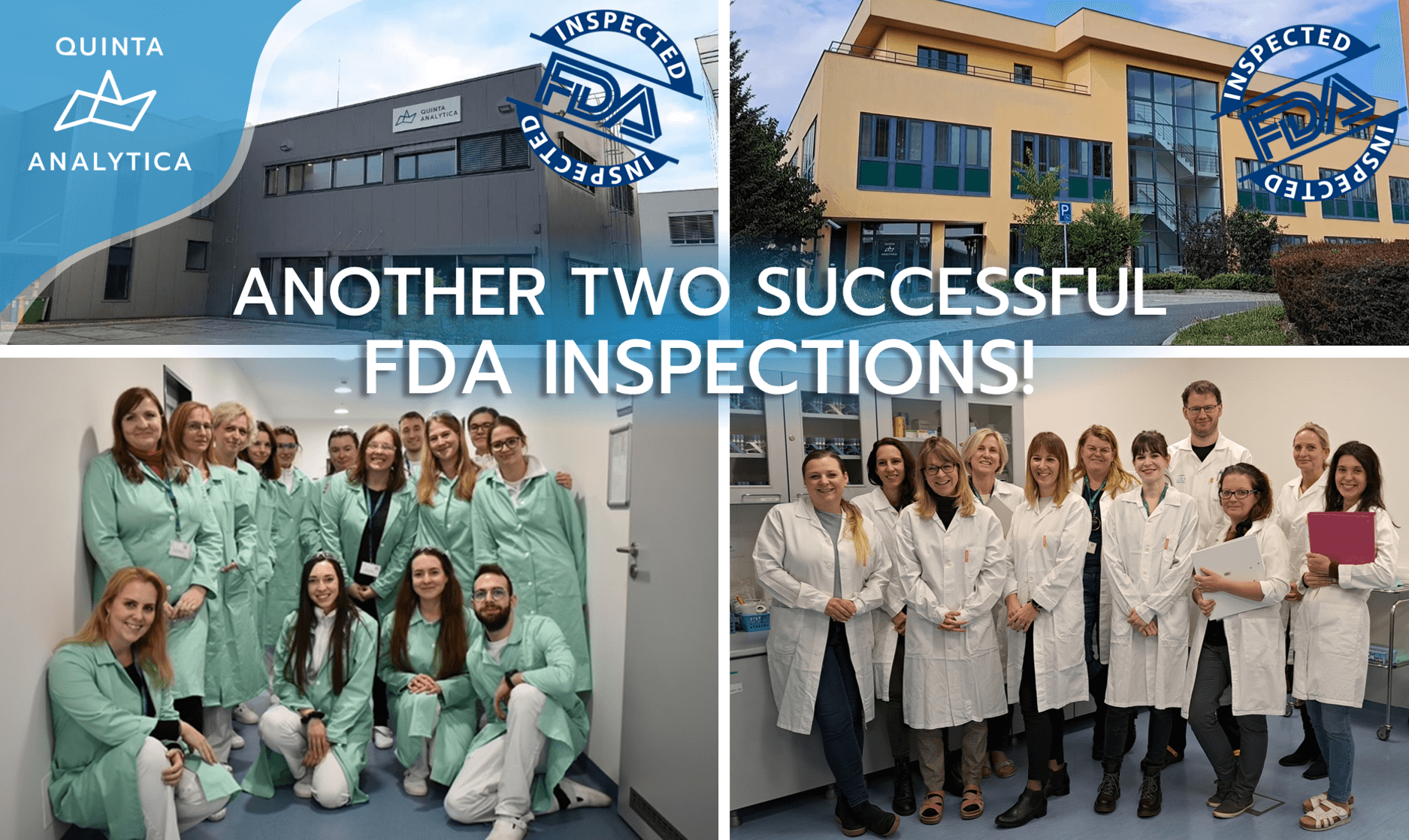 We at Quinta-Analytica, European service providers for the pharmaceutical sector and part of the Conscio Group , are proud to announce this past November we have successfully completed two US Food and Drug Administration (FDA) inspections, GMP and GCP. These inspections were performed at two of our sites – clinical unit in Prague and our new GMP lab in Brno. Both inspections were passed successfully without observations.
Quinta is regularly inspected by the FDA: We have undergone a total of 12 inspections in GCP, GLP and GMP areas directly performed by the FDA, while additional inspections have also been carried out by EU authorities on behalf of the FDA according to the MRA signed between the USA and the European Union. One of the two recent FDA inspections targeted our HPS laboratory in Brno, Czech Republic, to confirm GMP readiness as part of the manufacturing supply chain in a project for a large global pharmaceutical company. The second inspection focused on our Clinical unit in Prague and was launched in relation to two clinical trials submitted by one of our clients as part of a regulatory application to the FDA.
Pavla Malečková, Head of PAD-QC in Brno, emphasized the focus and precision of the FDA inspector as well as the readiness and professional performance of her team during the inspection, which lasted three days.
In turn, Olga Pichlová, Head of Clinical Trials in Prague, commented that the inspector from FDA's Bioresearch Monitoring department was a bioequivalences expert who performed a very thorough inspection. After four days of intense scrutiny the team demonstrated their clinical proficiency.
Quinta currently handles a yearly average of 40 clinical studies, up to 100,000 study samples and 16,000 physical-chemical test samples for pharmaceutical and biotechnological clients worldwide, including the USA. As one of the leading European CROs, our clients can continue relying on Quinta to consistently provide them with bioanalytical services, clinical trials and quality control testing in compliance with GCP, GLP and GMP, the essential European and American quality standards.
QUINTA-ANALYTICA is an EMA and FDA-inspected European CRO, part of the Conscio Group. For over 25 years Quinta has offered GCP/GLP/GMP-certified clinical, bioanalytical and CMC services for the pharma and biotech sectors. Visit www.quinta.cz for more information about Quinta's clinical, bioanalytical and CMC services or contact us at sales@quinta.cz.
Article by Albert Pineda