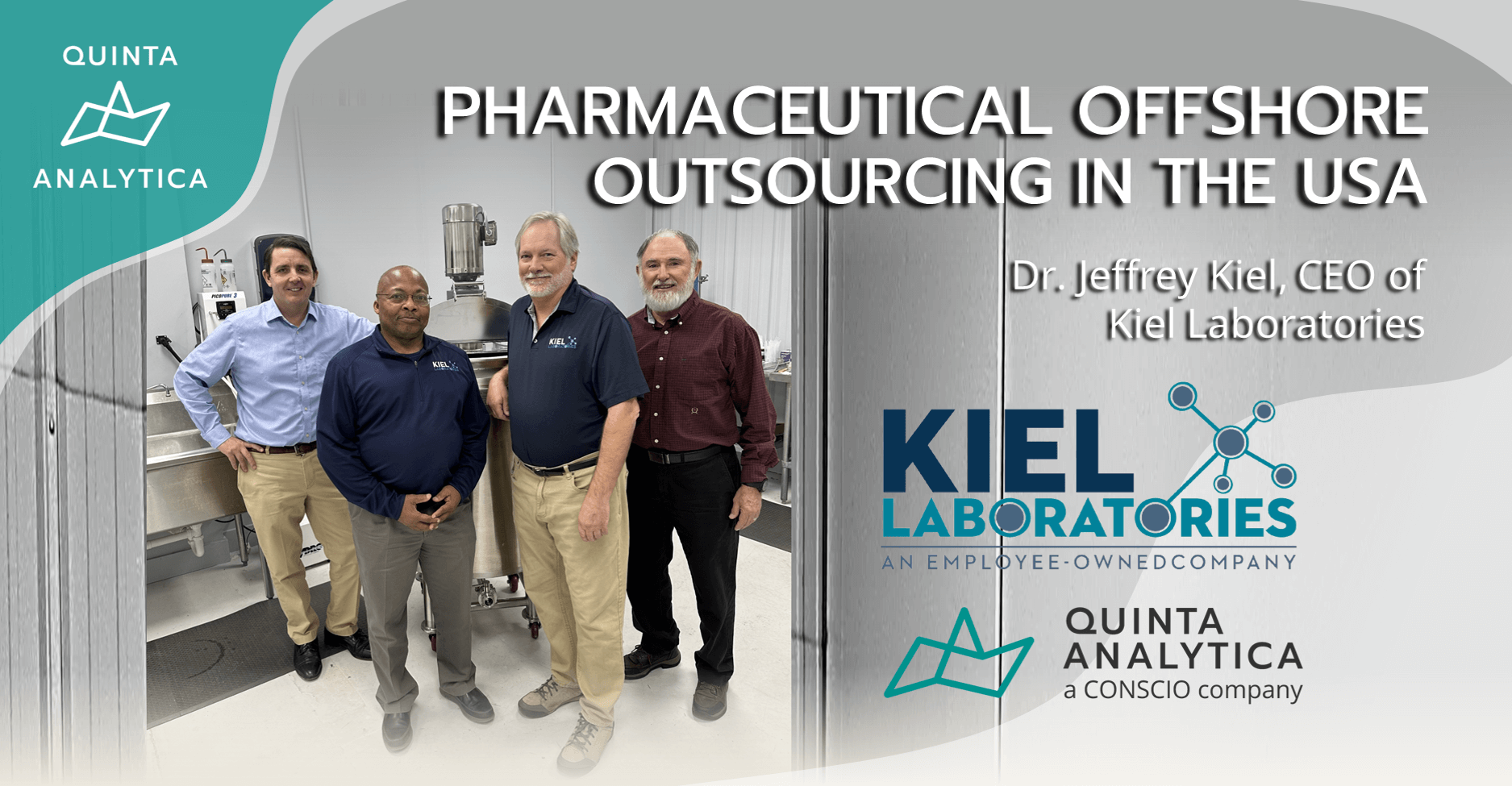 The vast majority of Quinta-Analytica's clients are international pharma and biotech companies in need of outsourcing clinical, bioanalytical or CMC work. While we often talk about our services, today we thought it would be interesting to share some perspectives of one of our US clients, Kiel Laboratories. Kiel is a US-based pharmaceutical R&D firm with a long and successful track record developing and out-licensing innovative drug products that address unmet needs for targeted patient populations. To maintain its focus on the generation and licensing of valuable intellectual property, Kiel regularly partners with international service providers like Quinta-Analytica to accomplish many aspects of the new drug development process from analytical method development to phase I-IV clinical development through and beyond commercialization. Here are some highlights from our conversation:
Why to opt for outsourcing instead of increasing in-house capabilities?
We spoke with Dr. Jeffrey Kiel, founder and CEO of Kiel Laboratories, who has much to say about offshore outsourcing and working with regulatory authorities in the United States. As Dr. Kiel explained, "Around 15 years ago the US pharmaceutical market changed dramatically: The generic drug industry shifted to overseas production and the FDA changed and, in many cases, increased their requirements for new drug approvals, leading to multiple compliance issues, as well as financial pressures, across the marketplace. We made the decision to sell our main factory site, because it was not a competitive marketplace at the time and shifted our attention to our R&D facility near Atlanta to focus on efficient development of meaningful, patent-protected drug delivery innovations for submission to FDA, with a special emphasis on 505(b)(2)-type NDAs."
Why 505(b)(2)s specifically?
"Because back then there were very few people doing that. 505B2s are different from a standard 505B1 NDA for innovator drugs or generic ANDAs because they cover the approval of drugs that share key similarities with approved drugs but differ in other potentially crucial ways. When it comes to such NDAs there aren't as many clear guidelines as there are on generics, so a lot of our success has come down to the sophistication and collaborative creativity of our regulatory approach. Many companies we've worked with didn't have much regulatory experience, and Kiel has helped them prepare regulatory plans that worked. We have successfully worked on a total of 9 NDAs since our pivot to an exclusive focus on pharmaceutical development, trying to file at least 1-2 NDAs per year. That's a lot."
And how does outsourcing fit into your business model?
"Kiel's role is mainly in R&D: Generating product ideas, identifying patent opportunities, doing early formulation work, and licensing those ideas to our clients. But we also collaborate with providers like Quinta to get products developed. When talking to third-party CMOs earlier in the project, the first thing that comes up is analytical capacity because we will need stability testing, impurities, CMC work, bioanalysis… We go from CMC and protocol development to running the clinical studies. From a clinical perspective, bioanalytical studies have straightforward guidelines for generics, but developing clinical protocols for 505B2 products can be painful: You must understand the dug well enough to present the data in a way the FDA will find acceptable. Quinta's broad expertise is very helpful to write well-designed protocols before the beginning of the study."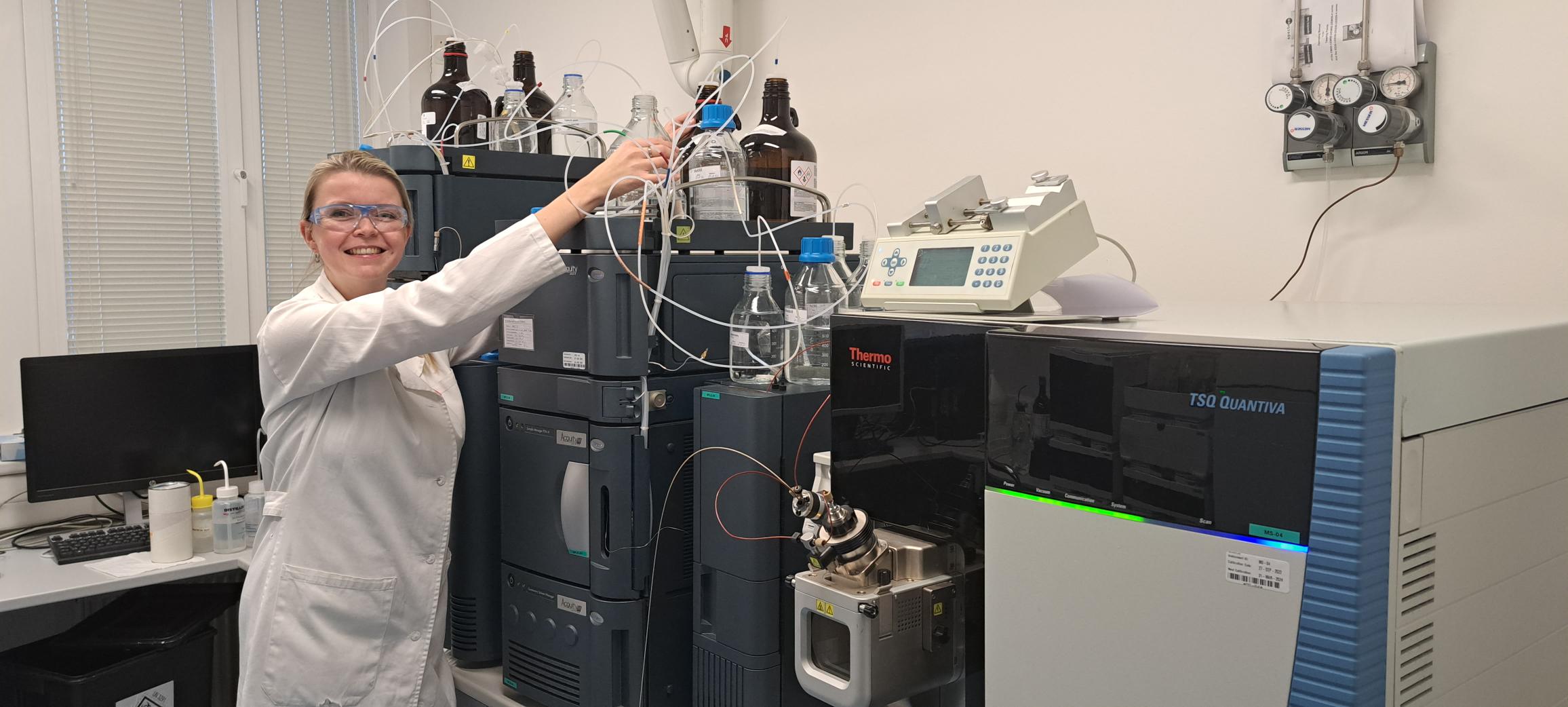 Tell me more about Quinta-Analytica. How did you partner up with them?
"We have worked together with Roman Grunt and Jiří Raška from Quinta for nearly a decade, first on the supply of APIs and afterwards on analytical services and method development. Having a sophisticated, responsive and reliable third-party contract laboratory was very important for our more difficult projects, and their experience in APIs helped a lot: They understood our problems where many other analytical groups would not."
But why outsourcing services from the USA to an offshore CRO? Why not a local one?
"We knew other CROs in the US but Quinta provided a service that nobody else could do at a very important time for us. It is true that getting samples to Prague was a concern at first, but the cost is almost the same as shipping them to California, especially with many samples. On the bioanalytical side, US studies are very expensive, so you usually opt for ex-US. But FDA guidelines as to what is an appropriate country to run studies in are confusing and change very fast. Many projects take five to ten years from start to finish, so who knows what the FDA will want by 2030? Some CMOs feel uncomfortable sending a study to Europe because they believe the FDA prefers local studies and that US contractors know better, but I don't think that's real, it's an unfortunate misconception, by and large. In the end, it is all down to world-class competence, responsiveness and, most of all, compliance. Our confidence in Quinta relies heavily on their great compliance record: They just passed two more FDA inspections!"
You mentioned services others couldn't do. Could you be more specific?
"Nitrosamine testing and control is an obvious example. We were developing our approved, multi-patented Prexxartan® (valsartan) liquid drug when the nitrosamines issue came up. Several [anti-hypertensive] products were removed from the market. It was a worldwide problem that was new for everybody: There were not many analytical companies in the US that did that type of assay, and it even took a while for the FDA to gather an understanding of everything that was necessary. This caused huge problems in the industry. But I am glad to say Quinta took a leading role in developing the assay technology very quickly, probably before many US entities had it available. Not only that, they jumped ahead of everybody by doing the validation of less-known nitrosamines that still weren't an issue for the FDA, who at the time was only concerned with the usual three, but Quinta was ahead of the curve, and had already validated five of them by the time they began working on that project for us. And then eight, nine, and so on… Quinta has stayed way ahead of the FDA on this issue, and others."
This is all about nitrosamine impurities, then?
Dr. Kiel confirmed that the range of services they outsource to Quinta has grown very broad: "We are working on other areas. We've developed an increasingly close working relationship over the past several years, and their impressive knowledge base has been a big reason for that. I must say Quinta has some very good chemists. We are co-developing a liquid formulation of a fascinating but challenging natural product that is basically a calibrated cocktail of numerous related organic compounds. We are also dealing with pharmacokinetic challenges for a simpler synthetic chemical project. Because PK/PD suitability is not always as cut-and-dried for a 505(b)(2) in comparison to a systemically absorbed ANDA product, it is incredibly helpful to have the freedom to call a top-notch PK scientist to talk about how to interpret certain data. Quinta has the technical skills but also the understanding of what the obstacles are, as well as the patience to find a way around them, and the collaborative attitude needed to fight through the problems as smoothly functioning project team. Outsourcing is no longer just about cost savings, but more about expertise and commitment. That's what we really expect from a partner."
So, how does Kiel manage the entire service package?
Kiel's approach depends on the client type: "Some of them are large companies with sophisticated regulatory and QA groups, while others are individual investors with knowledge on how to market a product but not how to develop it. They want to know when it's going to be done and how much it's going to cost, not how it's going to be done. Some just want to send a sample, go away and get the answer. But communication is important. We are not just doing a pH measurement; it's more complicated than that. We always start with an achievable timeline, but problems always come up and we must adapt. People who aren't scientists don't always get it. Working with a company like Quinta does help minimize such fluctuations. We can tell our partners that we are comfortable these guys can do this. That personal interexchange and trust between the companies is a must."
What does the future hold for Kiel and its partners?
Dr. Kiel elaborated on current limiting factors for pharmaceutical development, while also teasing some new opportunities: "We are always looking for new ideas. Currently we are running 10 different programs, but it has gotten harder due to market uncertainty. When picking the right drug to conduct research on, we must consider the end goal of the product from a market standpoint: clinical utility, how the product will get reimbursed, the targeted suitability of a particular presentation for particular patient populations, dosage strength and package size questions, and of course the degree of novelty of the solution we are trying to come up with."
Can you say more about that from a near-term point of view?
"We have done a lot of oral liquids, but that is not necessarily what the FDA and the market will want next. There's a big opportunity for R&D CROs because there's less consolidated capacity within companies. We'd like to make our pilot formulation lab bigger to develop more technical knowledge about a new product, and in some cases initiating provisional patent applications, before manufacture. As we scale our team and our throughput up, we will need more analytical support in other areas, so not only will we continue collaborating with Quinta on CMC, but are beginning to explore Phase III clinical programs, as well as post-marketing studies, along with our core competence of formulation know-how and related intellectual-property development."
The timing of this conversation is especially relevant for Quinta and the Conscio Group after the strengthening of its innovation and formulation capabilities. Stay tuned for more on these topics.
‍
KIEL LABORATORIES, INC. is a pharmaceutical R&D company based in Georgia, United States. With over 200 years of combined experience in formulation development, manufacturing, and regulatory affairs, Kiel develops IP and technology for NDA submission and commercialization of drug products. Please email KielBD@MirubiGroup.com for more information about our services and licensable products.
‍QUINTA-ANALYTICA is an EMA and FDA-inspected European CRO, part of the Conscio group. For over 25 years Quinta has offered GCP/GLP/GMP-certified clinical, bioanalytical and CMC services for the pharma and biotech sectors. Visit us at www.quinta.cz or contact us at sales@quinta.cz for more information about our services.
Article by Albert Pineda
‍
‍