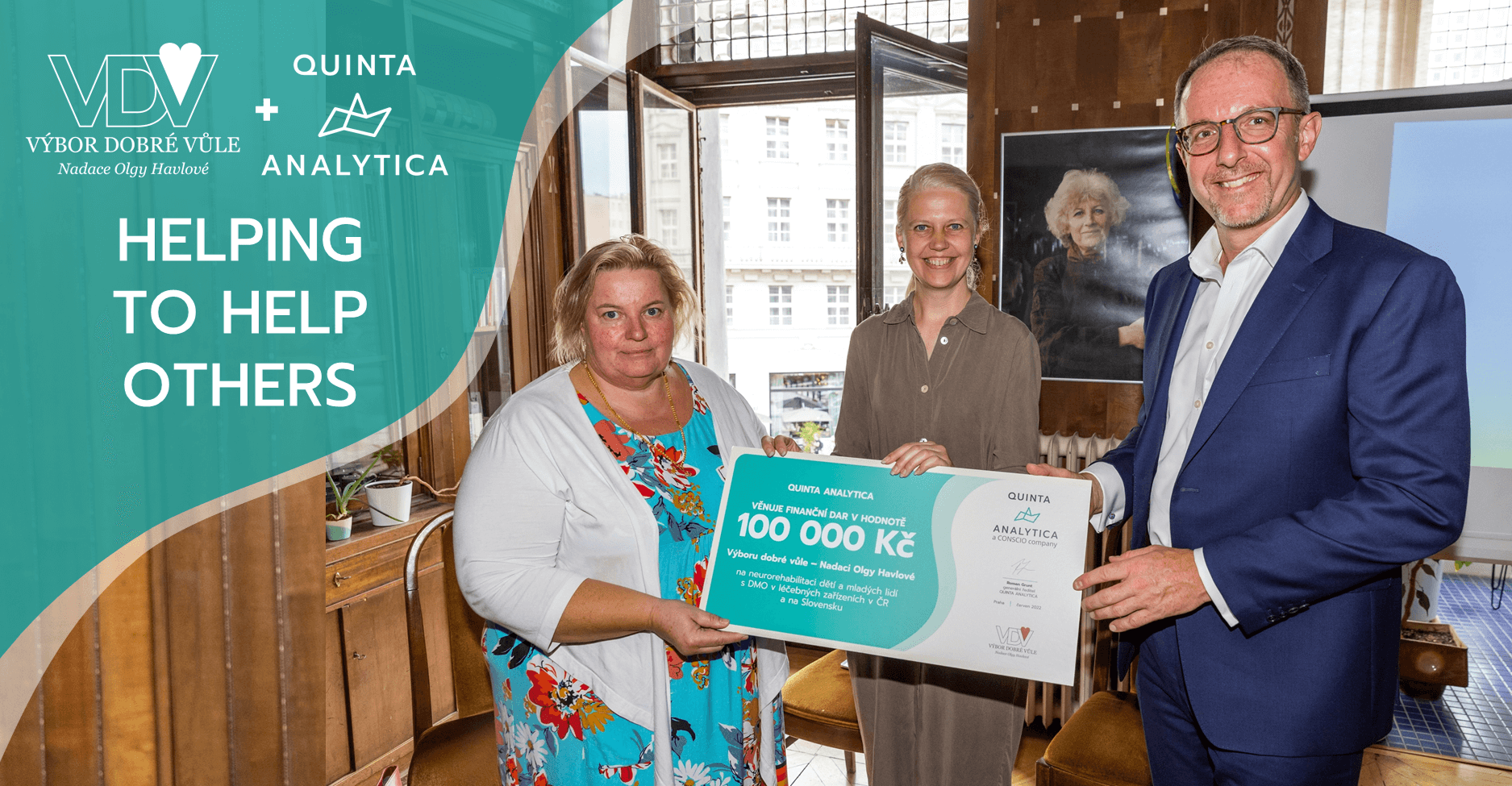 We are proud to announce that Quinta-Analytica has donated 100,000 CZK to the Výbor Dobré Vůle – Nadace Olgy Havlové / Good Will Committee – Olga Havel Foundation (VDV) for the support of six families with members in need of neurorehabilitation. The donation took place yesterday, July 27th, during a reception with beneficiaries, journalists, representants from VDV, The Axon Rehabilitation Clinic and Quinta at the Foundation's headquarters in Prague.
Výbor Dobré Vůle – Nadace Olgy Havlové, one of the country's most prominent nonprofit organizations, and Quinta-Analytica, a Czech-based multinational service provider for the pharmaceutical sector, have a history of past collaborations in areas such as cerebral palsy or Covid masks for women without a home" stated Mrs. Monika Granja, Director of VDV. "Each year VDV supports around 400 people with disabilities, trying to help wherever help is scarce, and medical aids such as wheelchairs or rehabilitation treatments are still not fully covered by health insurance companies. Costs for such treatments vary but one comprehensive therapy session in a clinic can cost up to 50,000 CZK, which puts a great strain on the budgets of families with disabled loved ones. Quinta's support is definitely most welcome" she sustained.
"Quinta and VDV have one big thing in common: Both organizations strive to help patients" said Mr. Roman Grunt, CEO of Quinta. "In these times of wars, pandemics and energetic uncertainty the general public is more aware of the needs of their closest ones, the value of healthcare and the importance of day-to-day solidarity between individuals, families and organizations. Quinta already participates in the development and clinical testing of new medicinal products, but we are happy to work directly with VDV because this donation will have a significant impact on the lives of families who are caring for a child with a disability, either from birth or after an accident, and who cannot afford such costly treatments" he concluded.
"Care for patients with neurological diseases or trauma survivors is not a one-time affair: The older children get the more attention their developing muscles require" explained Dr. Jarmila Zipserová, Head of the Axon Neurorehabilitation Clinic. "Our goal is to get patients as self-sufficient as possible and so we offer complete rehabilitation services under one roof (physiotherapy, speech and occupational therapy, Lokomat robot-assisted rehabilitation, etc) to avoid the hassle of transferring to other centers. Parents usually manage to find funding for the first one or two rehabilitation sessions, but therapy should take place several times a year and that often falls beyond their financial possibilities. This is why the clinic itself helps families find organizations like VDV for advice and funding" Dr. Zipserová claimed.
Mrs. Hrynko who attended the event with her daughter Anička, one of the children under Dr. Zipserová's care who will benefit from Quinta's donation, had very encouraging words about the therapy: "Health insurance funds are not coming through and since I have to look after Anička every day I cannot go to work. We are really grateful for this opportunity" Mrs. Hrynko began. "Anička is currently learning to lift herself up correctly and we see in her great progress. At the beginning I had to help her and now she can stand up on her own. Even if the change is only a millimeter it makes a huge difference to both parents and children. Also, Anička is happy to do all the exercises: Event though she always sweats terribly after 4 hours of therapy, the next day she is already asking if she can do it again" she added.
Quinta-Analytica's donation will make it possible for other young people like Anička to benefit from such therapies, which are of great importance for developing new physiological and movement patterns and activating brain structures responsible for movement. Quinta and VDV will continue collaborating to give other families the opportunity to keep fighting and to show them that they are not alone in their problems.
‍‍For more information please contact:
Výbor dobré vůle – Nadaci Olgy Havlové: Tel. +420 224 217 331, e-mail vdv@vdv.cz
Quinta-Analytica: Tel. +420 242 454 311, e-mail quinta@quinta.cz
Article by Albert Pineda