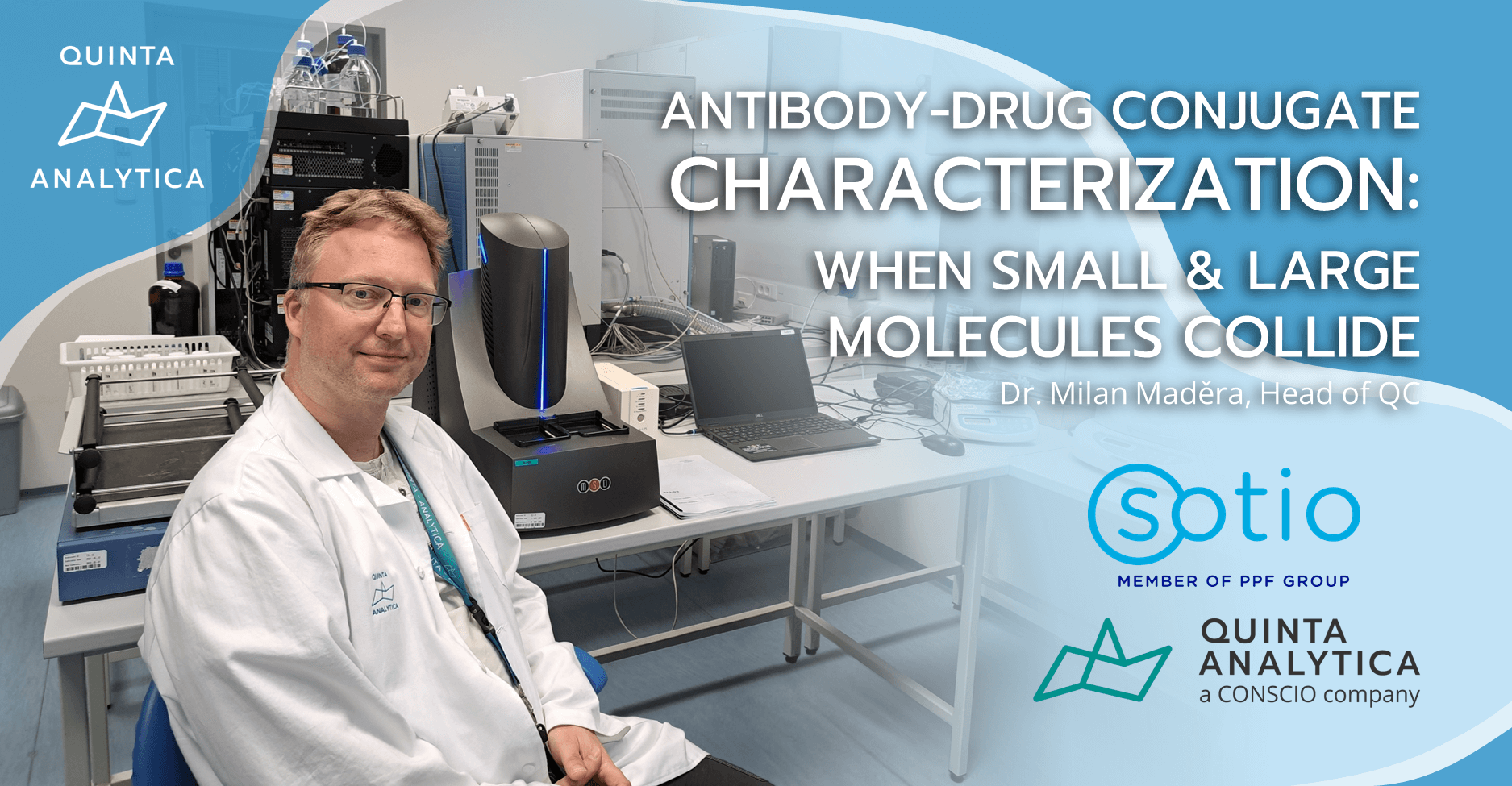 Not many service providers are prepared to offer GCP/GLP/GMP-certified analytical services for biopharmaceuticals, a group of large molecule drugs also known as biologics that require much more complex analyses than your average small molecule API. And no biologic is more challenging than antibody-drug conjugates (ADCs), a type of anticancer drug composed of an antibody linked to a cytotoxin which calls for extensive know-how in the characterization of both small and large molecules. Needless to say, such know-how comes in even shorter supply but Dr. Milan Maděra, PhD in Analytical Chemistry and Head of Quality Control at QUINTA-ANALYTICA, is proud to confirm his team is proficient in ADC work and wishes to share an interesting case study together with Quinta's high-profile client SOTIO Biotech:
"Our Biopharmaceutics Analytical Division is equipped to deal with all sorts of biopharmaceuticals: From monoclonal antibodies (mAbs), insulins or interferons to heparins, coagulation factors or also ADCs," Dr. Maděra begins. "And we accompany our biotech clients throughout the entire drug development process: From early R&D, preclinical and clinical studies under GCP/GLP, to GMP-certified quality control of biologic drug substances and products. This is one of the reasons why back in 2020 SOTIO contacted us at early stages of their ADC project. They were running a preclinical study and asked us to determine total antibody, conjugated antibody, as well as conjugated and released payload."
ADCs use large molecule mAbs to have a small molecule cytotoxic payload, a highly active pharmaceutical ingredient (HAPI), delivered to the targeted tumor cells. In consequence the analysis of the different fractions of an ADC requires different techniques: mAbs and conjugated forms are commonly quantified with immunoassays like ELISA or ECLA while LC-MS/MS is used for the small molecule free cytotoxic payload. Milan Maděra further elaborates on this point:
"This bioanalytical project posed a broader challenge because our small and large molecule teams had to fully coordinate in order to analyze the different components of the ADC, and on top of that the cytotoxin had to be handled in our HAPI facilities due to its high toxicity. And I am pleased to say our different experts interacted like a well-oiled machine," Dr. Maděra states. "The study spanned 5 months, involved over 2,000 plasma samples from rats and non-human primates, and was broken into 4 periods with PK and ADA assays using ECLA and ELISA. The main goal, of course, was determining the pharmacokinetics of the ADC in animals and confirming the absence of free deconjugated cytotoxin in the bloodstream but we got so much more from the project. Whenever we faced a problem SOTIO worked with us to find a solution: Not as client and contractor but as partners. And we all benefited from this open approach," Milan Maděra declares.
SOTIO is a renowned biotechnology innovator specialized in cancer immunotherapies and devoted to the development of new generation antibody-drug conjugates. Dr. Ulrich Moebius, PhD in Immunology and Chief for Preclinical Development at SOTIO, comments on the circumstances that brought him to work with Quinta in this crucial project:
"We already had collaborated with Quinta in the past and knew that we could count on them," Dr. Moebius begins. "Quinta always was eager to adapt, inject the right level of resources and implement new techniques when necessary. We were very satisfied with Quinta's flexibility during this preclinical phase of the project, we wouldn't have had this level of commitment and flexibility with other labs. Now that SOTIO is moving to testing its ADC program in a First-in-human study, we are happy to continue relying on Quinta's bioanalytical expertise and do clinical PK sample analysis with them," he adds.
Quinta has been entrusted by SOTIO with all bioanalytical activities in a large multi-centric study involving more than one hundred subjects with sites in USA and different European countries. Depending on its evolution our collaboration could last several years. Dr. Maděra comments on the next steps:
"It is a great honor to lead SOTIO's bioanalytical work. Our laboratories are used to handling multi-centric studies with high sample volumes. In fact, we routinely service top innovators from USA, Germany, Finland, Netherlands, and other clients worldwide," Dr. Maděra stresses. "Having already developed all preclinical methods makes it easy for us to complete validations for human samples, and we look forward to working in this ADC project during the clinical phase. We are one of the few CROs with both GLP and GMP services for biologics, meaning that we can offer quantifications and ADA determinations with ELISA, ECLA, UPLC or LC-FTMS, but also GMP quality control, characterizations, capillary electrophoresis, isoelectric focusing, amino acid analysis, post-translational modifications, glycosylation profiling or residual nucleic acids to name a few."
When asked about what the future has in store for Quinta's Biopharmaceutics Analytical Division, Dr. Milan Maděra ends on a very positive note:
"Worldwide market trends indicate an increase in outsourcing and a rise in biopharmaceutical R&D, and we at Quinta are determined to continue earning the trust of our biopharma clients with an ever-expanding portfolio of services, our soon-to-be launched second clinical unit, plus an unfaltering willingness to adapt to their needs," Milan Maděra concludes.
‍
‍QUINTA-ANALYTICA is an EMA and FDA-inspected European CRO, part of the Conscio group. For over 25 years Quinta has offered GCP/GLP/GMP-certified clinical, bioanalytical and CMC services for the pharma and biotech sectors. Click the links for more information about Quinta's biopharmaceutical analyses, clinical testing, bioanalytical testing or contact us at sales@quinta.cz.
SOTIO Biotech is an oncology company developing the next generation of immunotherapy products. SOTIO's robust pipeline includes a differentiated superagonist of the attractive immuno-oncology target IL-15, a proprietary technology designed to improve on the efficacy of CAR T therapies and a new generation of potent and stable antibody-drug conjugates (ADCs). SOTIO is part of the PPF Group. For more information about SOTIO visit www.sotio.com or contact sotio@sotio.com.
Article by Albert Pineda